And now I see, for whatever reason, that I am not getting notifications of when people comment. Hello to A. and suenos! My blog incompetence continues…now in its sixteenth year.
A. We are what we pretend to be, so we must be careful about what we pretend to be. –Kurt Vonnegut
I always feel compelled to write when something significant happens. I got cut from my job yesterday, and it was time since it was almost wrapped up. I realized that I had my year anniversary in February of being in the trades. Recently I've finally been feeling like I'm not hopeless on a jobsite.
It's really hard to explain how my skills are developing. I'm stronger, of course, and better at using tools, and knowing what the right tool is for the job. I think when I started on this path I thought there would be definitive answers and techniques. As if new construction was going to be like giant Lego bricks or putting together something from IKEA. (My blog throughline of "I am an idiot" continues consistently, I know you're impressed.)
One thing that has changed is that I can look at a problem and be a little more creative now in solving it. A lot of times parts don't work the way you expect, or fit right, and advanced skills include being able to make it happen.
There's a phrase which I've always found really annoying and rednecky: "Get 'er done." But that's it. You have to just make things work. Get it done, and move on. Just like life.
I feel a lot better at work now, overall, post medication. A construction site can be a very distracting place, and the key is knowing when to pay attention (here comes the crane) and when to just buckle down and work (the glaziers are talking VERY loudly about dealings with someone's cousin who got ripped off by a bail bondsman and the merits and drawbacks of destination weddings).
I have asked myself if I could succeed in an office/tech now with my current level of allergy and brain meds. I really don't know. I still don't regret the switch when I think about being trapped indoors in a cubicle with all the fragrances and (for me) the pointlessness of my output being words or symbols or ideas that I don't care about.
I believe I'm being kept by my current company for now, and transferred to another site, maybe downtown. Yesterday my boss didn't have an answer yet, so I'm in limbo. I'm really relieved to be going, because while the job was great, and gave me a lot of hands-on experience that an apprentice might not otherwise get, one of my coworkers ended up being kind of a nightmare.
I'd like to say I'm a trusting person, but I'm totally not. As part of my assessment for Brain AIDS a few months ago, trust of other people was the thing I bombed on the personality test they had me take. It was one of those screeners where they're looking for the big flags–schizophrenia, bipolar, anything else that can be caught. I looked antisocial and distrusting. I think part of this is my brain, which untreated can make me paranoid and full of social anxiety. When everything is confusing and all the balls are flying at your head: TRUST NO ONE.
Generally speaking, I am cautious with people and I don't tell them my boring darkest secrets right away. I was getting that little prickle from my coworker that said, LOOK OUT. Let him talk more. I heard a lot about how much he liked working with women and how great he was at working with them and how some of his favorite crews have had women on them. Unfortunately, I've discovered this is a flag as well. Men who are easy to work with usually never mention the fact that I'm a woman right out of the gate, and later only if it's actually relevant somehow. (My boss, who was awesome, mentioned a couple months in that he was the long-time apprentice of a woman who is nearing retirement age in our local and who is kind of a hero and legend because of how early she joined and how much butt she kicked.)
Then the pennies started dropping with my coworker. A couple of months ago he came up to me and told me someone in another trade onsite said something really nasty and sexual about me and him (meaning my coworker). My first response was, "Ok, that is very deeply weird." I told him not to tell me ever if anyone says anything like that about me. Just don't pass it on. I don't need to know. I asked him who it was and it wouldn't tell me. That was weird and vague.
So this sat in my craw and rolled around, like when that goddam pelican ate that pigeon. It niggled a little. But mostly I was relieved because I was able to look at it more calmly and objectively than in the past and I didn't dwell on it. "Brain, we need to keep a brain eye on this," I said. FILED.
A week later he told an elaborate story about how he got into it with the guys from that trade (one of whom supposedly made the anonymous sexual comments about me) and how he ended up hiding all of their tools and they looked for them for 45 minutes and he told them not to "fuck with him." These guys were HUGE. Tattoo-covered absolute BRUISERS. Who were always very polite and sometimes joked with me.
Coworker retold the story during lunch and I watched people's reactions around the tables. I watched how whenever someone told an interesting story he had a one-up. He didn't just see one semi jackknife, he saw THREE at once.
He would talk and talk with no filter. If I made an offhand neutral comment ("I'm going to paint my basement this weekend") he would launch into 15 minutes on the time he painted some building by himself overnight with no help and both hands. Uphill both ways. Everyone thought he was great. Hey, did he ever mention his mother was a compulsive liar? Hmm, no kidding. Let's hear more about that. Well, I don't have a choice, do I? That was a big tell right there.
His behavior towards me got worse over time. I felt like he was looking for some kind of angle where he could get at me. Sometimes he would start slamming me in front of the rest of the crew under the guise of teasing me. Or he would have some gross junk food or crap candy I couldn't eat and said "You can't have any of this, too bad. It's not for you."
He would nitpick little things, and not listen when I told him our boss had asked me to do it that way. He would pull me off work I was doing to make me walk around with him. This is not uncommon boss/apprentice behavior to look at the progress of the work and discuss what needs to be done, but he wasn't giving me things to do. On Wednesday he was kind of thinking out loud about some changes that needed to be made in a room due to some lighting placements. "I'd ask you if you know anything about that, but you don't know ANYTHING about lighting."
I was leaving on time a couple of Fridays ago with some other crew and he was a little late, on the other side of the building. My boss had already left for a meeting and I didn't see a reason to cool my heels waiting for my coworker. As I passed him, he sneered, "Leaving already, huh?" I was like, "Yep, goodnight."
My independence and increasing competence was obviously becoming a threat somehow, though I am NO THREAT to someone with years of experience. I had heard him talk shit about every pipefitter who was on our crew, as well as every tinner who'd worked with us, so I assumed he was spending time badmouthing me to our boss as well.
On Monday after "leaving already?" he sidled up to me as I was working and looked friendly and pleasant, and almost too casual…the face I had seen him make with some other whoppers. I had learned his tells.
"So, our boss's boss got an email from someone about us leaving early all last week," he said. "We can't do it anymore, so don't clean up until 2:10."
"Oh, weird. Who would send an email like that?"
"I don't know!" he said, smiling slightly and shaking his head. "Probably one of the fitters."
I followed this edict, returning my tools to the gangbox and locking up at 2:10, while noting that his tools were already in there and he was nowhere in sight on the floor. I came into the office and he was shooting the breeze with our boss, who was reaching for his coat and lunchbox. I had noticed that when we all parked in the garage he would always make a point to leave before me, or tell me when I could leave. I didn't care. It was just noticeable.
A day later the fitter foreman, who is a real joker and general stickybeak, decided to talk to me as I was working away at 2 p.m. or so.
"Surprised you're still here, SJ. Your boss is gone to a meeting, you know."
"No, I didn't know that." I put on a worried face. "Unfortunately, we can't wrap up early anymore, even though we're ahead of schedule. Someone emailed Boss's boss and said we were leaving early, so now Boss said we have to stop it."
"What! Who would do that? Who would care?"
"I don't know. Coworker just told me yesterday. He said he thought it was the fitters."
Our lunch is an hour before the fitters, so the next day at lunch the office held me, coworker, our tinner boss, and the fitter foreman. The two foremen were talking about work stuff when my boss said he was going to leave early that day. The fitter foreman took the bait and brought up the email I'd mentioned. "I thought you couldn't leave early anymore." My boss said he'd never received such an email in front of the three of us.
"SJ!" the fitter foreman said. "There you go, making stuff up to make me look stupid! That's the last time I'll believe anything you said, not that I did before."
I shrugged and said, "Sorry, I guess I was mistaken about some things," and kept eating my lunch.
That's when things got more openly nasty, because I had proved for myself that this guy was lying about stupid stuff (as well as some gross sexual fantasy stuff). He vacillated between being super extra nice and making snide comments.
I grabbed the fitter foreman the next day.
"I need to thank you, man, about what you said about the email to boss's boss that you brought up in the office."
"Oh?" he said.
"It proved some things I've been really wondering about. Coworker told me that, you know."
He jumped on that. "Yeah, everyone knows Coworker bullshits constantly. It's just how he is."
"It took me a couple of months to figure it out," I said.
As the finale to my five-month sojourn at the campus of everyone's favorite search engine, I decided to treat myself to a company-sponsored respirator fitting. I didn't realize there was a physical involved so I had to pee in a cup (waiting for the phone call telling me I tested positive for meth since I haven't had cause to disclose the Adderall yet).
The interesting part was the lung test. I had to blow into a device, which the nurse said I was doing wrong. She gave me some tips since I'd never had one. My lungs already hurt and felt squished, since I'd come from work (spray paint) and the waiting room was full of perfumes and colognes. Finally she got a reading and said, "We'll see what we can do with this." ???
The doctor came in and did some things, and looked at my breath read out. "Do you have asthma?"
"Well, allergies," I said. "It's hard to breathe when I'm indoors. My lungs hurt right now and when I was blowing."
"Hmm, looks like asthma." He said my lungs sound fine, and don't rattle.
A few minutes after I left I felt fine again and was taking my normal, non-painful breaths.
B. Perfect is the enemy of $9 orphan paint
As I mentioned, we broke from the basement bedroom, took a left at Albequakey and ended up in the furnace room. Rain and snow are making us concerned about doing things like replacing the windows at the moment. Pete, the good sport, was on board for my paint idea, since the walls had been whitewashed at some point but were a sad ombre grey blah as seen in my last post. Let's do something cheap, quick, and cheery to make it feel like a room that won't give me the sad ughs every time I switch laundry. My idea was to check out the orphaned paints at the hardware store, since I've had great luck with the paint lottery for things like chicken coops.
Grape Green. WHO THOUGHT THIS WAS A GOOD IDEA? And in a semi-gloss! Talk about your rooms to go insane in. Pete and I talked while we painted, about why people abandon paints after ordering them. Heart attack? Water broke? Maybe walking in to pick up Grape Green was the tipping point, your personal Dear Beyonce moment, when you realize your relationship absolutely cannot be saved and how were you married to an insane person for so long! I'm leaving. That tears it. I'm moving back to Skokie.
Their legal debt was our gain. We ALMOST got a sensible beige, with the thought that ZZZZZZZ
What was I saying? Who cares. Grape Green it is.

Fist pump for emphasis I reckon.
We got a couple of racks from the hardware store as well.
We built them slightly lower than their full capacity and then cut down the struts that were next to the window so we could still open it if needed. Kind of shaping the racks around the window.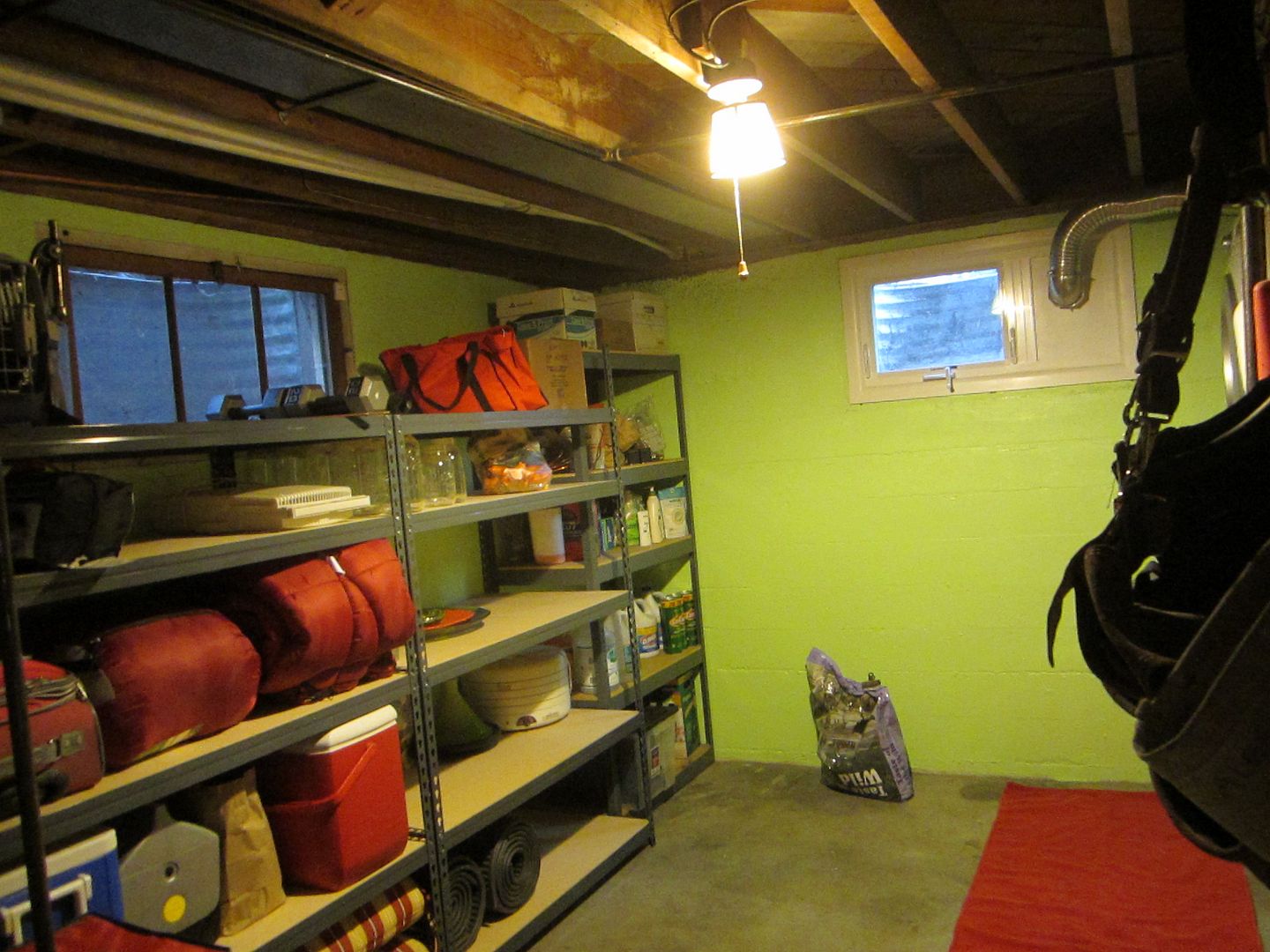 Painting the room green made me realize I own a lot of red things! I also got a cheepy shade to cover the bulb and a new cheepy pull.
Not pictured are my laundry drying racks, which now do not live in the bathroom!! I really like the exposed joists as well, as opposed to the sagging ceiling. I was relieved at the relatively small amount of recycling, donation items, and garbage that was in the room. Mostly we needed Storage Solutions.
We were very industrious and also picked up our closet door, made to match the other basement doors.
"So, what are you going to do with your clown painting collection?" Pete said.
"Hum, I should probably consign them, I suppose."
"Oh good."
I felt sad. And bad. And slightly murderous at this thought. Like a clown.
I tucked them away on the wall next to the furnace, mostly behind the door. Now I feel happy!!
"ARRRGH WHY," Pete said.
PROTIP: get your mental problems written into your marriage vows somehow, so you have backup later.
I scored some FREE!! destined-for-the-trash carpet from my previous job, and am going to make a runner out of that, carpet the dog stairs finally, and possibly make stair runners when we redo our horrendous basement stairwell.
I will snap pics of my carpet progress this weekend. Happy almost spring!